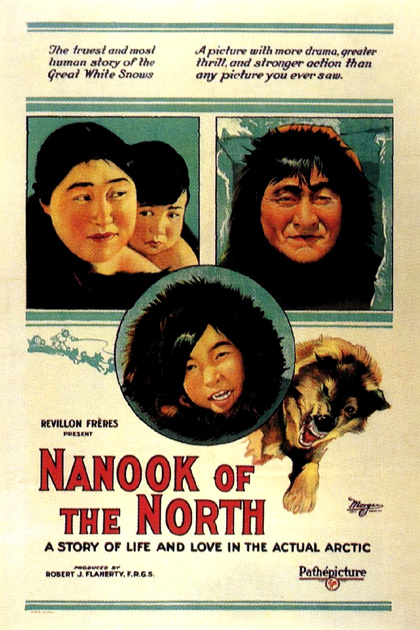 Un film di Robert J. Flaherty. Con Nanook, Nyla, Cunayou, Allee, Allegoo Titolo originale Nanook From the North. Documentario, Ratings: Kids+16, b/n durata 58 min. – USA 1922. MYMONETRO Nanuk l'eschimese





valutazione media: 4,08 su 7 recensioni di critica, pubblico e dizionari.
La vita di una famiglia eschimese, formata da Nanuk, dalla moglie Nyla e dai loro figli, seguita nella dura vita quotidiana, da un'estate all'inverno successivo, in un villaggio nei pressi della Baia di Hudson. Nanook of the North (Nanuk l'eschimese), primo fondamentale esempio di cinema documentario capace di raggiungere un successo mondiale, fu girato dall'esploratore Robert Flaherty in due lunghi anni di pellegrinaggio nel Circolo Polare Artico a temperature proibitive.
A metà tra il film antropologico e il documentario didattico, Flaherty "riesce a regalare la descrizione di una società alternativa alla nostra, tanto affascinante e complessa da non doversi piegare di fronte a nessuno, una civiltà con tecniche proprie, come la costruzione di un igloo, oppure il loro modo per ripararsi dalla tempesta…"
Nel 1994 il regista Claude Massot ha girato il film Kabloonak, che racconta le vicende delle riprese di Nanuk e le relazioni di amicizia che nacquero tra il regista americano, Nanook e gli Eschimesi Inuit.
« I Dannati di Varsavia – dvdrip ita Desiderio di Donna – All I Desire – dvdrip ita/eng »