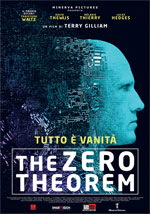 Un film di Terry Gilliam. Con Christoph Waltz, Melanie Thierry, Matt Damon, Tilda Swinton, Ben Whishaw.  Titolo originale The Zero Theorem. Fantascienza, Ratings: Kids+13, durata 107 min. – USA, Gran Bretagna 2013. – Minerva Pictures Group uscita giovedì 7 luglio 2016. MYMONETRO The Zero Theorem 





 valutazione media: 3,35su 16 recensioni di critica, pubblico e dizionari.
Qohen è uno degli sviluppatori più produttivi della Mancom ma si è alienato sempre più dal mondo esterno. A tenerlo in vita e dargli la forza di andare avanti è solo l'attesa di una fantomatica chiamata che gli indicherà il suo destino. Finalmente il misterioso Management, capo della corporation, accetta di parlare con Qohen, affidandogli la risoluzione dello Zero Theorem, un algoritmo impossibile sull'assurdità dell'esistente.
Accettare di tornare al cinema dopo il fallimento di progetti durati una vita. Accettare gli insuccessi senza abbandonare la propria Idea, quella di interpretare il mondo confuso e infelice in cui viviamo con gli strumenti del fantasy e della fantascienza di un'altra epoca, dimostrando come possano ancora essere attuali. Terry Gilliam è tutto questo, un incassatore come neanche John Mugabe sul ring contro Marvelous Hagler. Uno che trova il coraggio di tornare su canovacci per i più obsoleti, senescenti e uncool, come Brazil e L'esercito delle dodici scimmie, e provare a realizzarne un'ulteriore appendice, con un budget inferiore a disposizione e con il disincanto pessimista che ha preso il posto della rabbia eversiva di chi vuole cambiare le cose.
Il punto di vista è, inevitabilmente, quello di un autore di un'altra generazione, come lo è quello di Eastwood o lo era quello dell'ultimo Altman. Ma Gilliam non fa nulla per nasconderlo, quando invita a partecipare al suo videogioco vintage riadattato alla contemporaneità; il suo è un occhio nostalgico e disincantato sulla dissoluzione delle nostre vite, cominciata tra gli '80 e i '90 e proseguita nel terzo millennio, erodendo in maniera crescente speranze e scampoli di libertà, incastrando sempre più questi ultimi tra i pertugi concessi da lavori veri e fittizi, quando non autoindotti. Su quest'ultimo punto e sul ruolo della connettività 24/7 Gilliam lancia uno dei suoi strali più avvelenati, sintetizzando nella necessità di un continuo upload dei propri dati e del proprio lavoro la schiavitù imperante della deadline: droga, stimolo e spauracchio, causa ed effetto, mezzo e fine.
Qohen, agorafobico, vive in una chiesa che pare un museo, circondato da vestigia di un'altra epoca, o meglio di altre epoche, in un cortocircuito di generazioni perdute che sembrano tendere al Caos ultimo, all'Entropia galoppante; il pessimismo di Brazil si è trasformato in accettazione acritica del secondo principio della termodinamica. Qualunque cosa possiamo sforzarci di fare, il caos crescerà inesorabilmente. E la scelta di Qohen come soggetto-cavia della Mancom – geniale sintesi di un'agenzia di lavoro interinale e di un super-social network – è dovuta unicamente alla sua speranza, al residuo di un desiderio di unicità che ancora alberga in un essere umano che si oppone a una normalizzazione subdola, che passa da una policromia accecante, da sorrisi forzati e da un information overload che ottunde e segue l'uomo, anziché esserne seguito. E a costo di risultare ovvio o datato, Gilliam affronta di petto lo smarrimento delle identità ("chiama tutti Bob perché non può sprecare neuroni preziosi a ricordare i nomi della gente") che si fa paradossale in un mondo teoricamente ossessionato dall'esibizione e moltiplicazione dell'ego nella Rete. Ma la variabile vincente dell'algoritmo di The Zero Theorem sta forse nel cast, in un Christoph Waltz che per una volta trattiene i trucchi e i cliché del mestiere, in Thewlis, Swinton e Matt Damon che con dedizione si ritagliano ruoli consapevolmente caricaturali e nella rivelazione Mélanie Thierry, recuperata dall'abisso delle promesse mancate. Dall'accettazione della propria non-unicità – essere "creep" e non "special" – parte forse l'unico sentiero possibile verso una serena e consapevole (in)felicità.

« L'Uomo di Londra – dvdrip fra subita Nido familiare – tvrip ung subita »